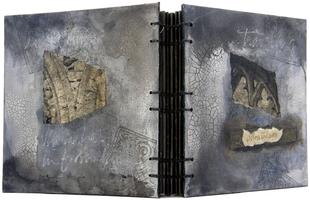 Holly created this beautiful MUSE JOURNAL, now in the collection of Bethany Garner
Holly Dean expresses her delight in beauty through her art. While contemporary in style, her mixed media paintings, book art and altered images embody an age-old quality: a connection to the arthurian mythology and love of nature that shapes her life. Organic layers of texture and rich colour conceal and reveal fluid lines of calligraphy and shapely letter forms. Holly's use of words in her art awakens a very personal connection with each piece.

THE MUSE JOURNAL

Holly's Fabulous Workshops series, held in her "gothic" studio in Merrickville are a smash hit. She loves to share her knowledge while encouraging all participants to experiment and grow.
For the future, you can treat yourself to one or more of these workshops and experience the magic of Holly's creative world. Make more art and come away inspired!
For NOW....
YOU will be lucky enough, if you register very soon, to be able to take part in this wonderful workshop with Holly as your Instructor during our FIBREWORKS KINGSTON Weekend Workshop to be held on the weekend of April 17th-19th at St. Lawrence College.
More details are available for you here on the Workshop #3 Page here at the blog
on the right sidebar.
Don't wait - registration is limited...
The Fee is $150.00 and we will be in Room 00060, Lower Level, Green Wing from 9:30 – 4 pm Saturday and Sunday. Holly's Trunk Show and Lecture will be in Room 12040 on Friday evening, April 17th fro 7-9 pm
Hoping you can join us…
Bethany